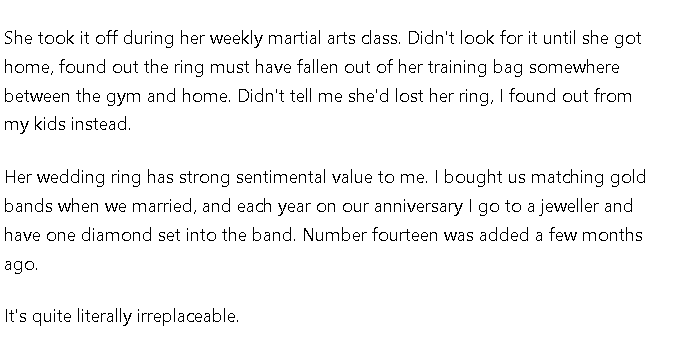 Yesterday night my wife lost her wedding ring.
She took it off during her weekly martial arts class. Didn't look for it until she got home, found out the ring must have fallen out of her training bag somewhere between the gym and home. Didn't tell me she'd lost her ring, I found out from my kids instead.
Her wedding ring has strong sentimental value to me. I bought us matching gold bands when we married, and each year on our anniversary I go to a jeweller and have one diamond set into the band. Number fourteen was added a few months ago.
It's quite literally irreplaceable.
She'd come home while I was getting dinner ready, and she went straight to have a shower. When my kids told me she'd lost her ring, I immediately went searching for it. Emptied the training bag, checked the car, came up empty handed.
I didn't say anything at dinner. She didn't say anything either. We both went to bed without speaking.
I woke up this morning, made the lunch boxes for our kids, got ready for work, and she got up as I was leaving and asked me if I'm upset. I said I was upset about the ring, and left.
The ring is a thing, not a person, and therefore not as important as my wife or our relationship. But it's also a symbol, full of meaning, and it's infuriating to know it's gone and she didn't take better care of it, put it in her purse or somewhere more secure than rolling around loose in a gym bag.
AITA for giving her the cold shoulder?