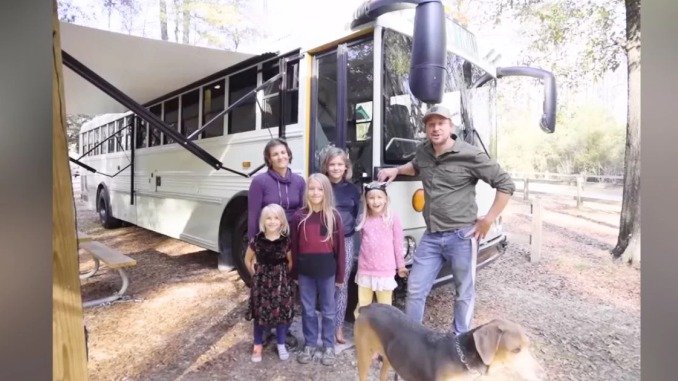 Imagine a life where the open road is your backyard and every day presents a new landscape to explore. Meet AJ, John, and their four spirited children, who have turned a 40-foot school bus into a cozy, mobile home.
With a keen eye for design and a knack for carpentry, John has transformed the bus into a sanctuary that houses six people and a plethora of dreams.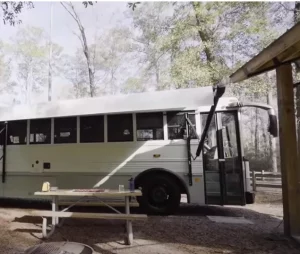 The living room, complete with a U-shaped couch and hidden storage compartments, doubles as a sleeping area for the parents, thanks to a cleverly designed pull-out bed.
But the ingenuity doesn't stop there. The family's electrical setup is a marvel of modern technology.
Tucked neatly beneath the living room couch, you'll find a Victron charge controller, a 3000-watt inverter, and two 200-amp hour batteries.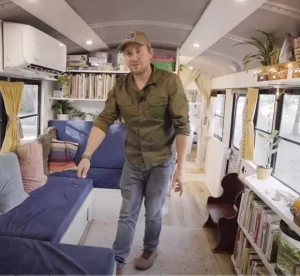 This powerhouse of a system can run an air conditioner all night and still have enough juice for breakfast, making it a perfect fit for a family that loves the freedom of off-grid living.
The bus also addresses the practicalities of life on the road.
A pocket door separates the living area from the 'throne room,' which houses a Nature's Head composting toilet.
Up front, the driving area is designed to keep the family close. Two original bus seats, now equipped with shoulder straps, provide safe seating for the kids, while a swiveling passenger seat offers a comfortable spot for AJ.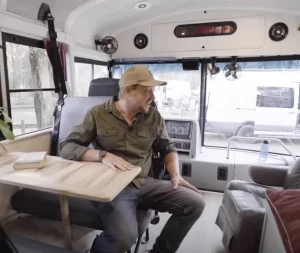 The family's culinary needs are met with a full-sized refrigerator and a kitchen that would make any home cook jealous.
Open shelves display jars of spices and grains, many of which were grown on the family's former farm.
An induction cooktop and an air fryer replace a traditional stove, aligning with the family's preference for electric appliances.
The sink even features a light that changes color with the water temperature, adding a touch of whimsy to the practical space.