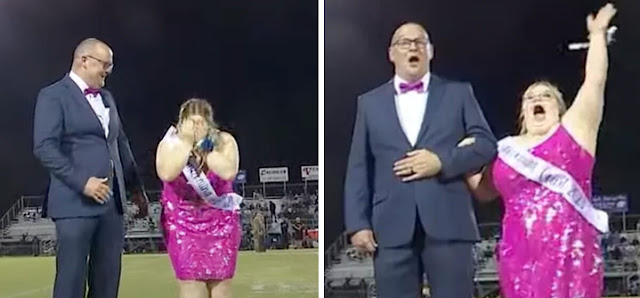 HomeTeen with Down syndrome breaks down in tears after being named Homecoming Queen
Teen with Down syndrome breaks down in tears after being named Homecoming Queen
A teenage girl was left visibly shocked after hearing that she had been named her school's homecoming queen in footage that is sure to touch hearts around the world.
According to reports, Emma Wright was awarded the distinction by the student body at East Forsyth High School in North Carolina.
The 18-year-old was among nearly a dozen girls vying for the title of homecoming queen. Together, they gathered on the school's football field for the big announcement, and when it came, the moment was every bit as tear-jerking as one might imagine…
By all accounts, Emma Wright is popular among her classmates at East Forsyth High School. The 18-year-old has Down syndrome, but she's never let that stand in the way of being a positive, friendly presence in the institution's halls.
Even so, she couldn't hide her shock after she was handed the honor of being named her school's homecoming queen for this year.
As per reports, Emma joined a number of other girls in contention for the prestigious accolade, while her father was stood by her side as the results from the school's student body were read out.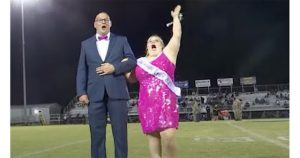 Footage of the event has now made its way to the internet, showing the exact moment Emma heard her name being called. The teenager, who is also on her school's cheerleading team, immediately broke down in tears.
"So amazing," she told WXII12. "I started crying as soon as they read out my name."
Emma's father, Brad Wright, was also visibly moved.
"We had no idea, it's something that you prepare for," he said.
"Just getting dressed, getting all the things done and we are so thankful to be a part of East Forsyth family and so excited for Emma and the opportunity they gave her tonight."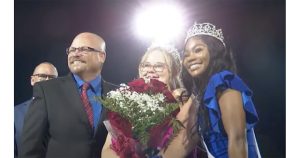 Speaking to Fox 8, East Forsyth Principal Rusty Hall expressed his joy at Emma's deserved win.
"We call her our dancer. You can see her dancing in the cafeteria, and the hallways, she's loved by the entire student body," Hall said.
"It's what we try to push here. Everybody is included, everybody's voice matters regardless of your background, your life before you got here.
"Once you're here you're family. And we appreciate the contributions of all of our students and tonight was a perfect example."
Fittingly, the homecoming queen announcement was made in October, which is also Down Syndrome Awareness Month.
As per reports, Emma dreams of opening up her own bakery and ice cream shop when she's older. She's also set to attend Western Carolina University in Cullowhee, North Carolina after graduating next year.
Watch the emotional video of Emma being crowned homecoming queen below: