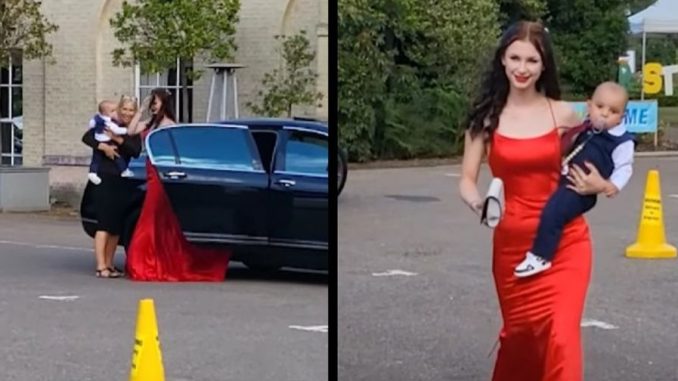 Some kids fantasize about going to prom with the love of their life. But it can be very rare for that to actually happen.
But for 16-year-old Ashleigh Hazelton, that dream came true.
That's because she brought her infant son to the prom with her and he is, without a doubt, the love of her life. Hazelton of Ipswich, Suffolk gave her classmates quite the surprise when she stepped out of her limo with her prom date, 1-year-old baby Lorenzo.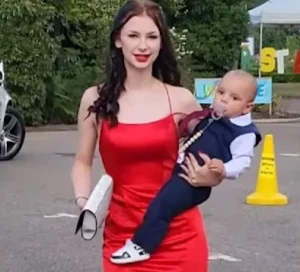 "I got out of the car and everyone came running up to me, chanting my name and crowding around us. I felt so loved and supported, but Lorenzo and I come together now so it felt right," Hazelton told Caters News. "On the way to the venue, I was so nervous! None of my classmates knew what I had planned. Although, Lorenzo wasn't nervous he actually had a ten-minute power nap."
Hazelton got pregnant when she was 14-years-old and gave birth at 15. She went back to school six weeks after having her baby and sat for her GCSE exams.
Some people told Hazelton that it was brave of her to bring her son.
But for Hazelton, it wasn't "brave" at all. It was just part of being a mom.
"Everyone was very shocked and surprised, I remember hearing loads of friends saying I was melting their hearts which was really cute," she said, according to The Sun. "Although people said it was brave, it wasn't a massive deal to me I just did it! I really enjoyed the entire evening and it was such a special moment for me."
Hazeltonton wore a stunning red gown and bright red lips to go with her red hair. She looked amazing. And her little man couldn't have been cuter in his little suit.
Her mom, Haley Tricker, said she couldn't be more proud of her daughter.
"I cannot even explain quite how proud I am of her. Yes, she had a baby at 15 but she also went back and sat her GCSE'S 6 weeks after giving birth," Tricker said. "She has already received some results and passed with flying colors which is amazing. She kept up her studies and then came home taking to motherhood so well too."
Getting ready for the big day went smoothly, according to Tricker.
Well, at least for Hazelton it did.
Tricker said that she and her friends were extremely emotional and shed lots of tears while taking Hazelton's prom photos.
"She got a great reaction from everyone and it was so nice to see her friends supporting her. The teachers were also amazing too and of course, Lorenzo got a lot of attention," Tricker said.
You could hear people in the background of the video of Hazleton getting out of her Bently about how beautiful she looks and how they were "about to cry" seeing her and Lorenzo together.
According to the video, Baby Lorenzo didn't get to party too late at the prom and mom got some time to dance with her friends and enjoy the celebration of her prom and her own accomplishments.
Hazelton's story ended up going viral and was shared by several news outlets. The teen said she was delighted by all the support she's received.
Please SHARE this with your friends and family.