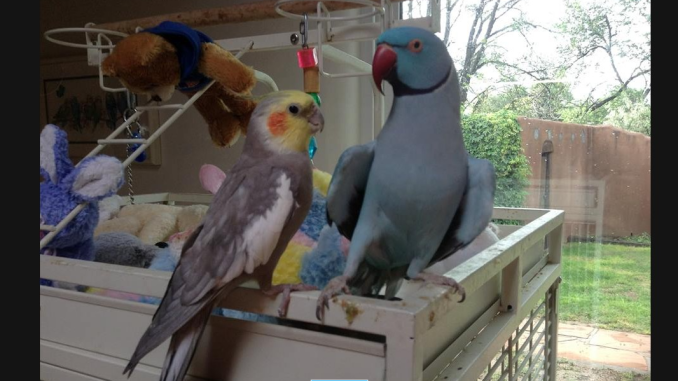 The blue Marnie The Indian Ringneck Parriot is a sweet creature that adores his mother beyond everything else.
He enjoys telling his mother how much he loves her and giving her kisses, as well as kissing his stuffed animals.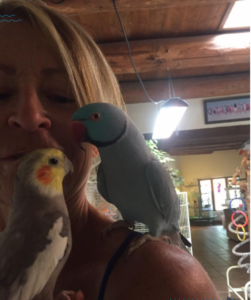 Marnie was given to his owner when he was just six weeks old, in 2006. She helped socialize him and hand-fed him for the first several weeks.
Soon, the parrot was hanging out with his owner's other birds, including a Scar Macaw, Mr. Pretty Bird Cockatiel, and Chessa, a Congo African Gray parrot.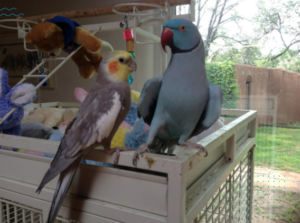 Marnie was also a big fan of plush animals, particularly bunnies.
Marnie's owner claims that Marnie received his first bunny just a few weeks after she acquired him on Easter. When you squeeze the rabbit, it says in a loud voice, "This bunny loves you," and Marnie began repeating it. He would also observe his mistress speak and imitate her—even as a newborn, Marnie enjoyed talking and did so whenever he could!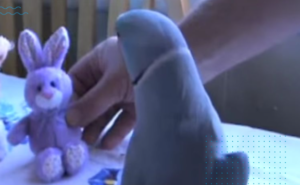 Marnie's owner began uploading footage of Marnie on her YouTube account in 2009.
Marnie and Mr. Pretty Bird were seen chatting over breakfast in her debut video. "You're so cute!" Marnie said again and over to Mr. Pretty Bird.
Marnie's owner posted footage of her chatting, eating, and flying around the living room on social media. The videos rapidly racked up thousands of views, as everyone adored Marnie's kind demeanor. Everyone liked seeing how much Marnie adored his owners and toys, and the adorable bird was a great fan of displaying affection with kisses.
Marnie is now a 15-year-old bird with a lot of wisdom. Marnie's mother decided to replicate the video that made him famous to commemorate his special day. Despite the fact that the two films are separated by ten years, Marnie reacts to the toys in the same way!
Marnie is a kind bird that adores plush animals as well as the people in his life. We're so grateful his mother shared all of these adorable videos with us.
Check out the video that made Marnie famous on the internet by clicking the link below!