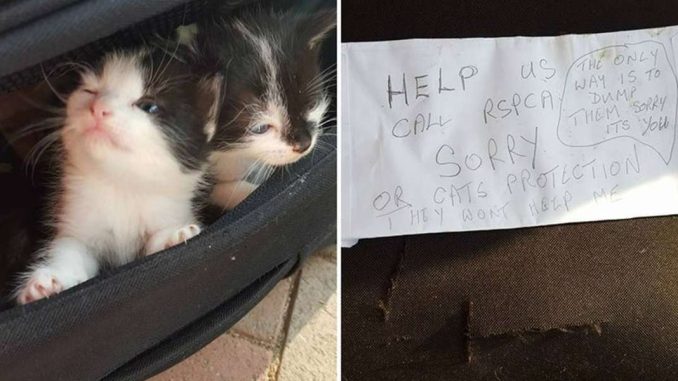 It's difficult to image someone abandoning a cute litter of kittens in a suitcase on the street, but that's precisely what happened last week in Warrington, United Kingdom. And the perpetrator even left a message.
On her way to pick up her son Andrew from preschool on Friday morning, Kaysie Sheridan came across a suitcase stowed away near the school's door.
She came to a halt to investigate and discovered a litter of three small 3-week-old kittens, as well as a note that said, "The only way is to dump them sorry it's you."
The message added, "Help us call RSPCA … or Cat Protection, they will not help me." Sheridan was surprised and took the kittens to her mother, Sue, who has a lot of expertise with cats.
Sue Sheridan told the Warrington Guardian, "It was not a good note inside the box and there was a bloody towel on it, which we assume the mother must have given birth to."
The kittens are doing much better after a veterinary visit and great attention, and the family wants to keep three of the litter.
"Three of them will remain in the family. "My mother, me and my grandmother will all have one," Kaysie Sheridan expressed her feelings on her Facebook page. "However, because they are still very young, we want to offer home to anyone at this time."