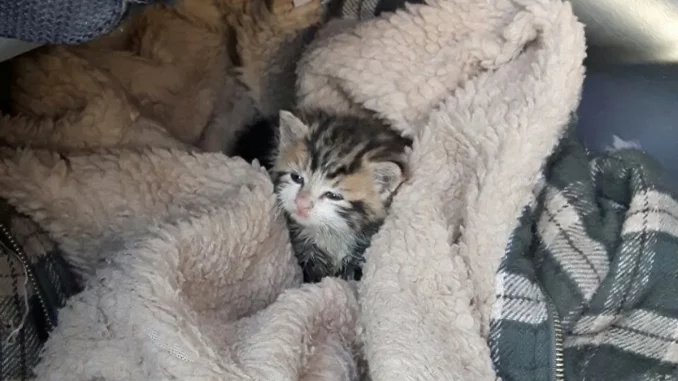 A farmer found a tiny kitten cuddling with his siblings, shivering in cold. He was the only kitty that was still alive.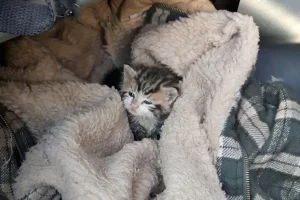 The little tabby was huddling up to his siblings, fighting hard to hold on.
"My boyfriend was doing some building work on a local farm recently that is home to several (semi feral) cats. Towards the end of last week he discovered a litter of kittens that appeared to be abandoned by their Mammy Cat," imgur user bluetractor said.
Three of the four kittens didn't survive. The little tabby was very weak, but he was not giving up. "(Boyfriend) waited until the end of the day to make sure Mammy Cat wasn't going to return and then he relented and took this little dude home with him."
He gave the kitten his coat to keep him warm.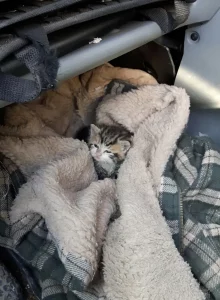 "(The kitten) was cold and hungry so he got wrapped up in a fluffy coat in the van."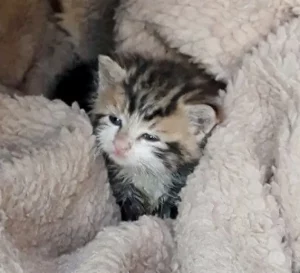 "This is his first meal in a while. Thankfully he was old enough to be able to lap some up by himself."
"He's about 4 weeks old so will be on kitten replacement milk and first stage kitten food for another month or so," they said.
After lots of good food and warmth, the kitten looked so much better. "He is much brighter and more active now…"
All wrapped up in a warm blanket. The kitten is so happy to have a place to call his own.