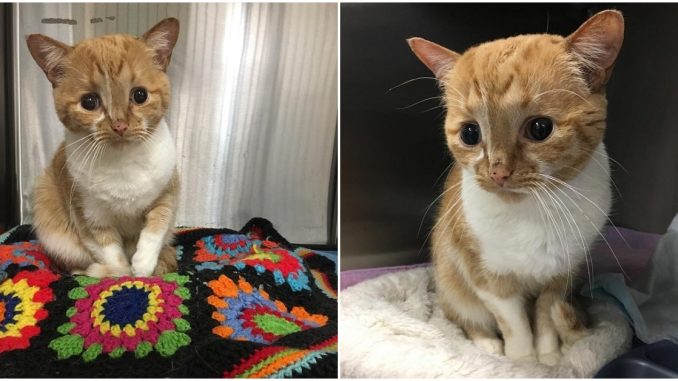 This sad special-needs cat was unable to find a home.
He spent the majority of his time in his cage, but that changed when he discovered his perfect forever home.
"Benjamin Hugo Noggin, often known as Benny, came to Milo's Sanctuary when his human mother died, leaving him and his four feline siblings alone in the world. The other four cats were found homes by some kind folks, but no one wanted Benny.
Benny is not only blind, but he also suffers from hydrocephalus, according to Milo's Sanctuary.
Benny was transported to a lovely vet's clinic, where he had gone since he was a little kitten found in his human's backyard.
He was terrified and perplexed by all of the changes. Benny couldn't spend his entire life in a cage at the vet's office, so they contacted a local rеscuе group, who advertised him on social media.
Milo's Sanctuary was immediately called, and they gladly accepted him. He traveled to his Lifetime Care Foster home after a trip down from Northern California, where he's settling in and learning that he's secure and loved.
Benny hasn't yet figured out how to use a litter box, so we've provided him with a plethora of pee pads, which he uses religiously.
He also follows a particular diet due to digestive problems and receives subcutaneous fluids a few times a week to keep hydrated. We're not sure why he won't drink from a dish of water. Regular blood tests are also required for Benny to ensure that his salt level remains normal."
Benny has remained a nice, sensitive youngster with a wacky sense of humor throughout all of the changes. He adores his food, toys, and especially his spanking new scratching post!
"We told Benny that he'd always have a home at Milo's Sanctuary, and with your help, we'll be able to maintain that promise and give Benny a long and happy life!"