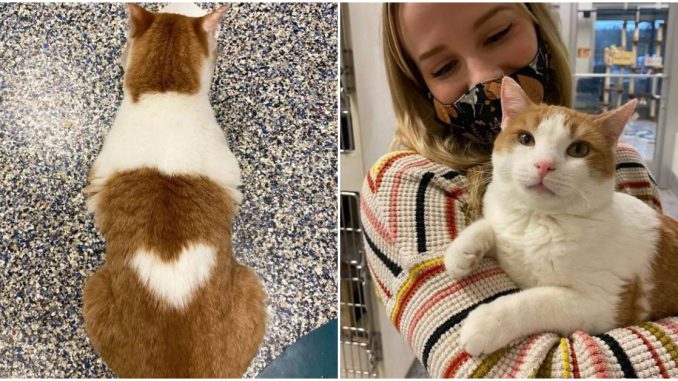 Rutile, a two-year-old red-and-white cat, was surrendered to animal rights activists at Lollypop Farm in Fairport, New York, earlier this year. He and 90 other cats were saved from a home fire in Perinton.
"Rutile was injured in the fire – he came to us coated in soot, with a burnt mustache and hair, with a cold and horrific burns on all four paws," according to Lollypop Farm animal rights campaigners.
Despite this, the magnificent cat was in a happy mood and appreciative for the attention and assistance.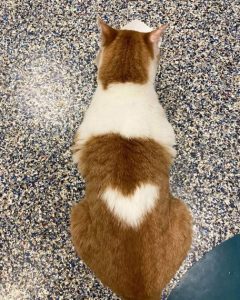 He yearned for love from the outset. The cat would get out of its cozy warm cradle to be patted whenever a shelter worker or volunteer arrived. Rutile was a good person even in his state of recuperation, and all he needed was to be looked after.
On the back of the friendly cat was a significant mark: a gorgeous, perfectly formed heart. This is his specialty. "Rutile is on the lookout for love, and you can bet he has one!"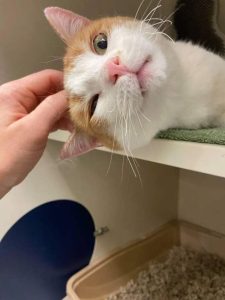 "The remarkable distinction between Rutile and other animals is his perfect heart on his back, and he is love personified!" the animal rights activists claim.
Every day, the magnificent creature proudly wears a mark of love on its back and is quick to convey affection to others. He loves being lifted up and rubbed by the volunteers.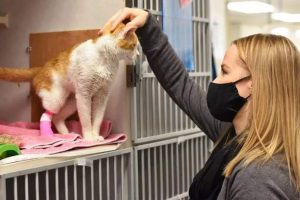 Veterinarians found a hole in his soft palate – basically a cleft palate – as he recovered and repaired his wounds. "As a result of this, Rutile had surgery and is still being treated by Lollypop Farm veterinarians."
After the fire, Rutile had to go through a lot. Every day, his inner kitty emerges, making him more energetic and playful. Soon, the adorable kitten will be ready for the next step, which is to find a permanent home.
He has turned into a happy and healthy cat who does not miss any opportunity to be cared for. Noticing a moving toy, he immediately takes off and begins to chase her.
When he sees anyone, the fluffy fellow loses his head with delight and, of course, amazes everyone.
"He's a kind, friendly cat that enjoys being softly caressed and petted. "He enjoys poking his forehead with a stick and chasing toys," the volunteers said.