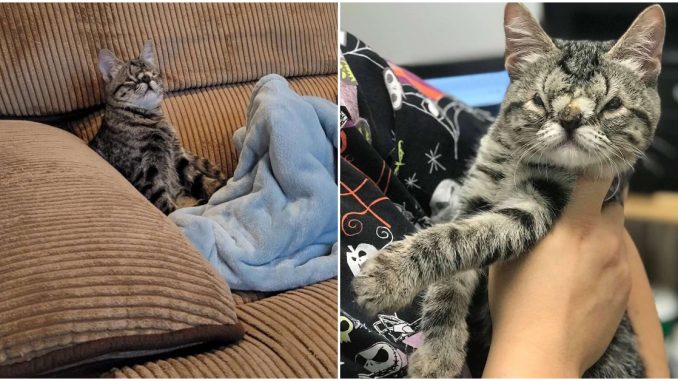 This Adorable Kitten With The Squishy Face Is Unadơрtable
Meet Kaya, a cute little cat with a face that could melt anyone's heart.
Kaya was born with a mushy, unhappy countenance due to a congenital facial deformity. Odelkis Barrera, the founder of the TO Rescue (The Ontario Rescue), realized she wanted to savе Kaya after seeing a photo of her unusual features.
A Good Samaritan discovered Kaya outdoors in July and contacted TO Rescue for help. The kitten, who was only four weeks old, was dehydrated, emaciated, and infested with fleas and ticks.
The skinny little cat gained weight fast while in the care of Barrera and Kaya's foster parents, and her wonderful personality began to show through. TO Rescue commented on Facebook, "She is very communicative and lively." "She's extraordinarily bright and simply wants to be held and surrounded by people."
Despite the fact that the special kitten has gone through a lot in her short life, she has remained extremely friendly and lively. "She's not only the prettiest cat imaginable, but she's also wonderfully nice."
"Everyone who comes into contact with her falls in love with her," the rеscuеrs wrote. "She gets along swimmingly with her foster families, as well as the other cats and dogs."
Barrera told The Dodo, "Her personality is beyond fantastic." "All she needs is to be touched, loved on, and cared for." She can't get enough petting, so if you don't, she'll pet herself against you."
When she's not snuggling with her foster parents, Kaya can be found playing with her favorite toy in the world — a cardboard box. "Kaya spends hours playing inside of her box," the rеscuе wrote. "She definitely keeps herself entertained! She is such a precious little girl."
At five and a half months old, Kaya's sole want is to find a loving forever home. However, she has yet to receive a single adơрtion application as of last week.
Kaya just underwent surgery to improve her vision and reduce some eye irritation. While her eyesight isn't ideal, she's learned to navigate with ease and can always tell when another dog, cat, or human is close, eager to play.