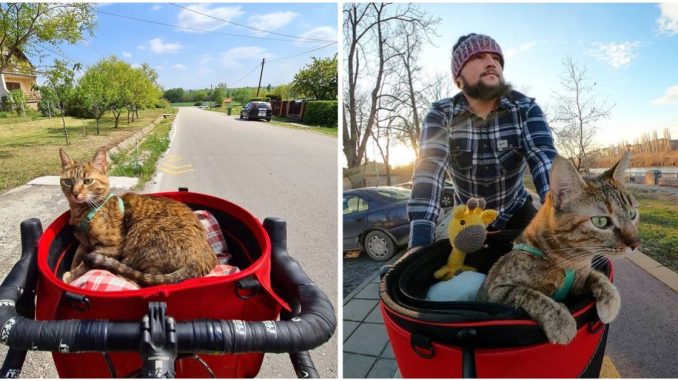 Dean Nicholson was riding his bike up a hill in Bosnia near the Montenegrin border when he heard a pitiful meow.
He cast a glance behind him. He noticed a gray-and-white kitten pursuing him up the slope in the dim December light.
With a strong Scottish brogue and a Maori pattern inked on his left upper arm, the beefy and bearded 31-year-old wanderer put on his brakes and dismounted.
Nicholson had set out three months earlier from his home in Dunbar, a town on the eastern coast of Scotland, to traverse the world on his green Trek 920 bike.
He cycled from Scotland to England, hopped on a ferry to the Netherlands, and then traveled through Belgium, France, Switzerland and down to Italy. From the coast of the Adriatic, he caught a ferry to Croatia and then made his way into Bosnia.
He was seeking distance from his job as a welder, which had left him listless and depleted.
In an interview with The Washington Post, he said, "I couldn't do the 9-to-5 stuff." "I wanted to tour the globe and learn about its current status.""
That meant opting for a bike ride in the open air rather than a bus or railway cabin. ""If you don't go to the smaller places, you'll lose out," he added.
It also meant doing it alone.
So he reasoned. In the shape of a feline and fellow traveler, the Balkans had a surprise in store for him. He named her Nala, after his favorite film's lioness buddy, "The Lion King." The small creature, which had jewel-likе eyes, would not leave his side.
"If you've got a pet, you know what it's likе," Nicholson said. "You're never alone. It's true companionship."
Nicholson wasn't sure what to do with the frightened kitten by the side of the road at first. He was already overburdened with goods. He had also grown up with dogs and regarded himself to be a true buddy of man's best friend. The animal, on the other hand, appeared to be eager to join him.
"I decided to bring her with me as soon as I got her to relax," Nicholson added.
He slid her into his front basket, tossing some digital gear aside to make place for her.
She wasn't satisfied with that perch, however, and instead climbed up onto Nicholson's shoulder. From there, she kept watch and nuzzled him. Quickly becoming accustomed to the bumps and swerves of the road, she dozed off.
Nicholson found a vet in Montenegro, where he learned that she was about 7 weeks old and had no microchip.
With that, the two hit the open road, heading towards Budva, a historic Montenegrin city with meandering stone alleyways and panoramic views of the Adriatic.
"Nala caught the attention of every passing visitor and even got me a free pint," Nicholson said on his Instagram page about the visit in December, which rapidly gained a large following.
Bouts of bad weather slowed the journey to Tirana, the Albanian capital, but the time passed quickly for Nicholson, who was distracted by his furry friend.
Now, Nicholson and Nala are on Santorini, the Aegean Sea's crescent-shaped island where they plan to spend the summer. He was able to get work as a sea kayak tour leader.
When fall arrives, he'll pack his belongings and leave for Australia, going through Turkey and Georgia before retracing his steps.
He intends to travel to Argentina from Australia and then cycle all the way to Canada.
Nicholson will have been to far-flung regions of the globe by the time he's finished.
"I'll also have witnessed this cat's development, which is perhaps even more astonishing," he said.