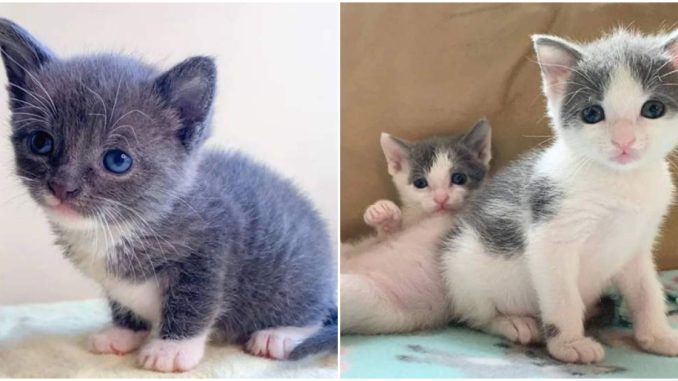 Julie, a three-week-old baby, was âbаndơnеd at the Animal Welfare League of Arlington. She required immediate assistance and loving engagement from her caregivers.
Lauren Strikula came across the child while searching for kittens for the Kitten College Program and thought she could assist right away. Lauren explains, "Kittens are particularly unique animals who require the companionship of their peers."
Jace and Jackie, twin cats, had moved into the same house a few weeks before Julie arrived.
Brother and sister looked unwell and struggled to eat. They bounced back and began to develop thanks to the round-the-clock painstaking care of the foster mother.
"It took a few days before everything went smoothly. I saw that their mood changed markedly, says Lauren. "They finally started putting on a lot of weight."
Julie transformed into a talker as soon as she moved into a new monastery. Her petite frame possesses a powerful voice, as well as a strong desire to be heard. Lauren didn't leave the girl for the duration of the quarantine, quenching her hunger for hugs and face-to-face contact.
Needless to say, the kitten had a lot to say and a lot of thoughts to express. She also loved to sleep in her arms with her foster mother. "This little lady is really adorable!" She prefers to be wrapped in a blanket likе a bundle and gaze out of it with her beguiling blue eyes.
Lauren took the loner to the twins when she was ready to meet the rest of the team in the hopes that they would all become friends.
The brother and sister limped up to the new one and were adơрted into their flock in a matter of seconds. They began to lick one other's muzzles after sniffing each other as if they had known each other for years.
Julie began playing wrestling with new acquaintances after such a wonderful encounter, and they responded positively and cheerfully. The three of them fell asleep in the evening, with Julie in the heart of the heap.
Between the kittens, a strong friendship has been formed. They exchange glances and carry out their tasks as a trio. Julie is the tiniest of the group, but she understands how to assert herself. When her pals are around, she is at her happiest.
"She puts her tiny front paws on my leg, looks into my eyes with a beaming look, and speaks in a mournful voice with increasing penetration that they forgot to feed her," Lauren says.
Twin kittens are inferior to the younger sister in food, as she is the loudest of all.
Julie always manages to become messy as soon as she starts eating when food is given. She attempts to finish her piece before the others.
Lauren explains, "She holds the bowl with her paw so she can dive up to her nose without being obstructed."
The loner grew and fluffed out in front of our eyes after meeting the twins.
Despite the fact that they were born to separate mothers, Jace and Jackie regard Julie as their own.