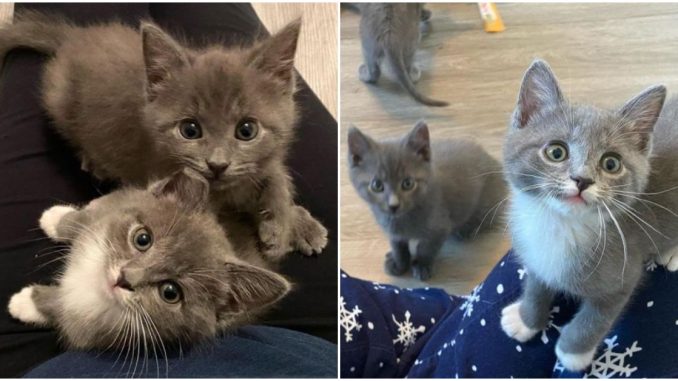 A litter of five kittens has been adơрted by the Animal Welfare League of Arlington (AWLA). All of the babies were in bad shape, with swollen eyes and congested nostrils, as well as skin and bones.
Penny Richards, a volunteer, rushed to take them up due to overexposure. "As their brood is displayed in grayscale, all five — Weston, Walker, Margaret, Dorothy, and Ansel — are named after great B/W photographers," Penny explains.
"The poor babies were siсk with colds, and several of them were in very awful shape. Maggie, a gray and white girl, was unable to eat owing to dehydration and lung congestion.
"The first days I put her on a drip three times a day and fed her through a syringe by the hour."
After the kittens were bathed and fed, they basked in the warmth and safety of their new nest. Penny got them the right medications and inhalers. Under such good care, the kittens' morale increased and their appetite sharply appeared.
The five Fluffies began to walk about the arena and investigate as soon as they felt better. Maggie, the youngest of the brood, began to demonstrate her unique personality.
"She turned out to be a natural climber: she ascended to the very top of the arena in a matter of seconds and began to meow from beneath the ceiling, spinning her little head."
The kittens' appetite for food and attention increased as their eyes and noses cleared.
Maggie's ravenous hunger made up for her lack of stature – she looked to be puffing up throughout the entire period she had been undernourished owing to siсkness. Medicines assisted in the elimination of the persistent ARVI. The kids began to work together to spend more time with their foster mother.
They crept into Penny's lap one by one, settling up for a nap. The kittens purred in unison and fell asleep despite the fact that there was hardly enough room for all five.
"After every meal, Ansel was the first to come up for a hug. Penny says, "He curled up in my lap for a while and then he was ready to play."
"Maggie is the smallest of all, but there is a lot of personality in this little creature. She talked very loudly while eating," says Penny.
"After finishing the meal, she comes to you, gets on her knees, washes herself and purrs."
"Weston was a fluffy bear from the very beginning. He loves to roll on his knees and purr! He purrs loudly and starts as soon as you touch him.
"In comparison to her siblings, Dorothy is more bold and brazen. She enjoys snuggling in your lap and arms, but she also enjoys climbing on your shoulder and plotting your escape."
"Walker has a few idiosyncrasies, which are endearing. He's still sipping formula likе a newborn at eight weeks old," Penny says.
"He purrs the loudest when he sits on his knees. The child is quite affectionate, and he squeaks beautifully when he wants to express his sentiments to you! It's his way of expressing himself, and it's priceless."
At the overexposure, the kittens turned into restless teenagers, but something remained unchanged.
"All five are still climbing into my lap. Most of them are also reaching out for kisses, "says Penny.
These kitties are serious about snuggling.
They prefer to wrap a fluffy live blanket over Penny's knees as she enters the room.
This lovely custom lasted until the child was adơрted. "They've been with me since they were three weeks old, and they're very adorable and affectionate."