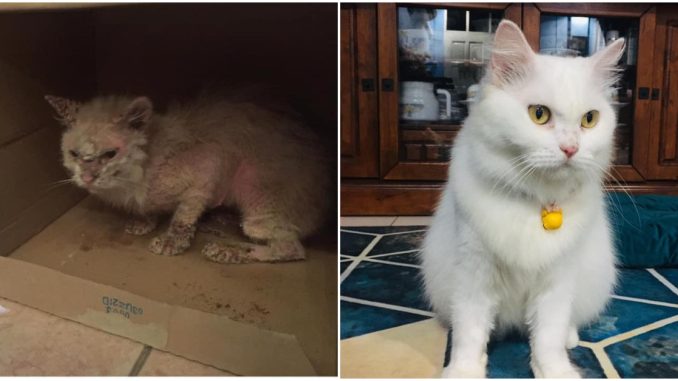 Nur Hamizah Had been in her Malaysian backyard a year ago when she noticed a tuft of white fur under her car.
She was horrified to see a frail kitten as she crouched down to take a closer look.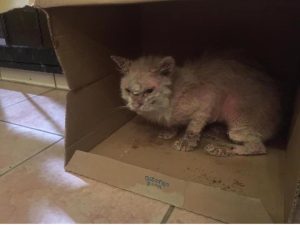 The tiny cat was barely more than skin and bones, covered in sores, dirty and nearly bald. She smelled awful — but Hamizah Had couldn't look away.
"She looked very poor and was begging me to help her," Hamizah Had told The Dodo. "I was so touched the first time I saw her. I told myself, 'If she can survive, I will take care of her and love her as much as I can.'"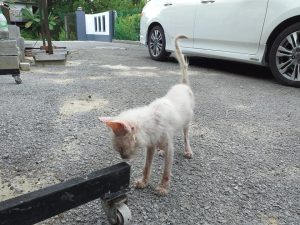 While the kitten appeared to be too ill to live, Hamizah Had could tell she was a fighter by the huge golden eyes in her eyes. So Hamizah went out and bought a cardboard box, which she placed in front of the cat. The kitty strolled straight in and settled down, much to her astonishment.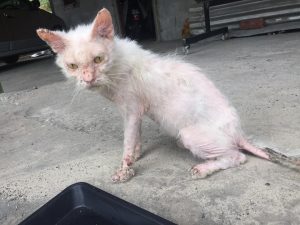 Hamizah Meimei was the name given to the kitten once she was brought inside.
She brought Meimei to the vet the next day and learned exactly what she needed to do to help her recover. The kitten was just 4 pounds and had open sores, as well as various skin concerns that needed to be addressed.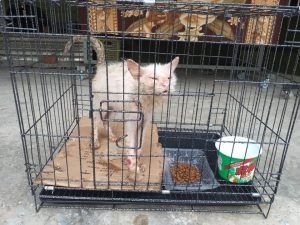 But with the care and love of Hamizah Had, Meimei's appearance began to change.
She started eating.
Her fur regrows.
The filthy little stray was converted into a healthy, fluffy female in just five months.
Meimei has grown to be over 13 pounds and enjoys her life as a domestic cat.
"She enjoys eating, sleeping, and playing about my house," Hamizah Had said. "However, if she meets someone she doesn't recognize, she will flee and hide."
Hamizah Had is always willing to help a stray cat in need, and she thinks that Meimei's makeover will demonstrate that every street cat can be transformed into a princess with a little love.