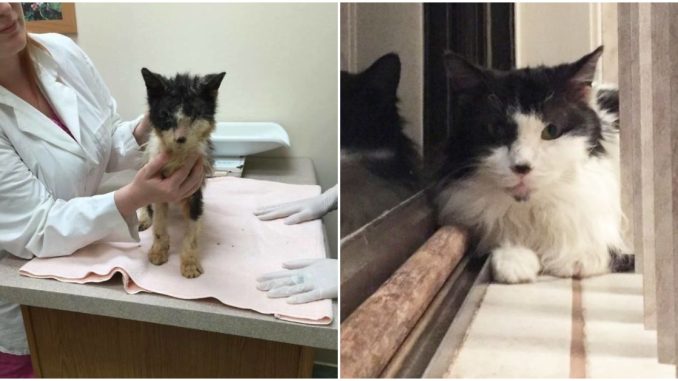 Samuel is the name of the cat. Its former owner has a collecting obsession, which means he brings all kinds of garbage into the house, ignoring the filth, foul odors, and his own unpleasant look. It's incredible that he even fed his pet on occasion.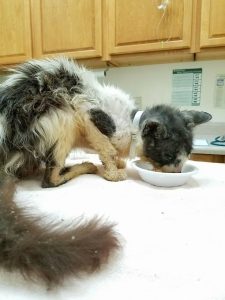 The malnourished cat was covered in his own excrement, his hair was in shreds, and a purulent crust had developed over his eyes. However, as soon as he was taken out of the carrier, he began to reach out and purr!
Samuel's destiny was in doubt: it is standard practice in the municipal shelter to euthanize four-legged animals who have not been reunited with their owners within a specific amount of time.
Fortunately, Leslie Raines, a veterinary assistant from Houston, came across the photo of the cat on social media. She made contact with animal activists from Save A Purrfect Cat Rescue and organized for a coordinated rescue effort, as well as an appointment for Samuel at her clinic.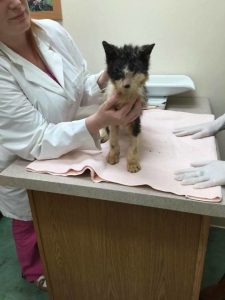 A veterinary examination revealed that the cat had anemia, signs of scabies, bad teeth, corneal damage in one eye, problems with the liver, kidneys, and feline immunodeficiency. And this despite the fact that he is only two years old.
"Based on my long practice, I understand that now Samuel looks repulsive, from the point of view of most people. But still, looking at him, I see a beautiful healthy cat who just needs help, "says Leslie.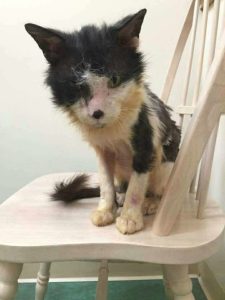 Samuel's medical bills were covered by Save A Purrfect Cat Rescue, and he handled injections, pills, and other treatments with grace. Then he began to gain weight steadily and confidently.
Leslie began bringing the cat to her as soon as he was free of scabies and eye illness, so he could observe a regular household life and get care and attention.
"In all my years of work, I have never seen such a deep psychological trauma in any animal as I have seen in Samuel," Leslie explains.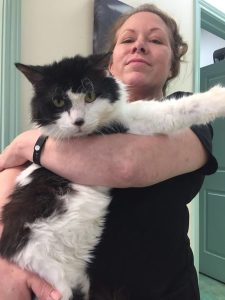 The cat refused to give up and made a gradual but steady recovery.
He, on the other hand, is terrified of cat carriers, preferring to perch on top of them rather than climbing inside. It's also understandable. Samuel is particularly odd in that he is afraid of his own reflection in windows and wanders around large spaces.
He eventually became accustomed to objects like a chair, a bed, and a sofa over the course of several months of therapy and rehabilitation. He couldn't comprehend why he could lie down and rest on the chair at first.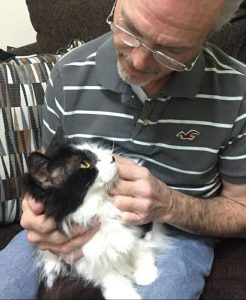 Gradually, he learned to walk around the house, to contact people and relatives. Samuel loved Leslie the most – when she stroked his newly grown fur, he purred.
"He behaved sweetly and affectionately, and if I took little kittens for overexposure, he spent time with them and even "chatted". And he did not mind at all if they boldly attacked his tail.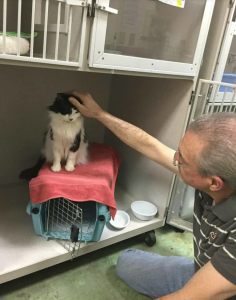 Samuel appealed to the guy because he reminded him of his late cat, who had died of cancer. Mutual understanding was created between them from the very first meeting.
"When I saw them, I burst into tears of joy," Leslie recounts. "It appeared to me that Samuel was thanking me for everything and saying farewell, believe it or not," says the narrator.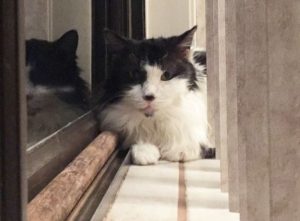 The cat spent ten months at Leslie's overexposed location and managed to round up in the proper spots, heal, perk up, and have a great time.
Now he has a bright future with a loving person. In fact, his real life is just beginning…