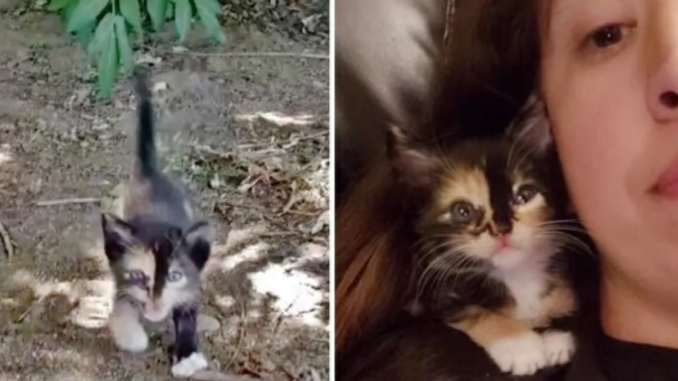 Cassie, a California-based teenage animal enthusiast, was cleaning horse stables when she heard the cutest tiny voice. She hadn't expected to meet her feline soulmate on that particular day, but fate had other ideas.
The woman was taken aback when she spotted a little abandoned cat dash towards her from the woods, meowing for help.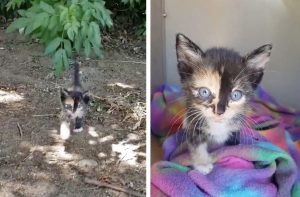 Cassie imagined it was a bird when she first heard the sounds. She observed one of the horses glancing into the neighboring bushes after a few minutes of looking about. She drew closer to the bushes and knelt to have a better look.
The next thing Cassie saw was a defenseless rejected kitten racing towards her from deep under the bushes, much to her amazement.
She took the small creature to the tack area and scooped her up. The kitty's health was in grave danger. She was terribly dehydrated and hungry. The poor kitten couldn't wait for Cassie to finish filling a bowl with water. She began to consume all of the water that had spilled onto the floor surrounding the bowl.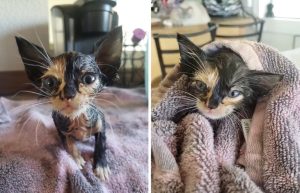 Luckily Cassie bought cat food for her other cat that day, so she ran to the car to grab it. She could barely finish filling the bowl before the kitty gulped it all.
When she finished her work, Cassie brought the kitten back home and gave her a nice, long medicinal bath, to remove all the ticks and fleas. A few minutes later, the kitten fell asleep in her new cozy new bed. She knew she was finally safe.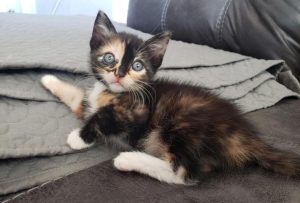 The next day, the kitten was practically unrecognizable. The newly vivacious and enthusiastic kitten frantically searched the home for anything she might play with. Even though she was the tiniest, Cassie's other cat, who was more than twice her size, was not scared to wrestle her.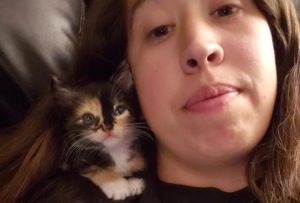 The small cat increased in size and personality over the following few months. The kitten enjoys spending hours playing with her four-legged siblings, but she is mamma's little kitty. Cassie went back to the bushes where she initially discovered them numerous times.
She was seeking for the kitty's mother to see if she was looking for her child, but she never found her. Cassie adopted the cute kitty after realizing that no one else in the world loved it as much as she did. She named her Charm (as in lucky charm) in honor of her good fortune in finding her that day.